Father Figure
by Nejc Gazvoda
Vzornik, fiction
In preproduction
The fourteen-year-old boy Jan lives with his mother Mojca in a small town on the Slovenian-Croatian border. The parents are separated, Mojca has problems with alcohol, and Jan is looking forward to the day when he starts attending high school and living in a dormitory in Ljubljana. He befriends a new neighbour, the unusual Jure. However, Jure is not what he seems at first glance – for several years, he has been associated with illegal groups that organise border migrant crossings even during the pandemic. Jan falls in love with a classmate, the gypsy girl Lady, who has recently joined his class. But Lady has a boyfriend, Dejan, who is very hostile towards Jan. Only Jure can help him. What price will Jan pay for this? And what will happen to Mojca, who is still devastated by the divorce, when she learns that her son is turning into someone she does not recognise?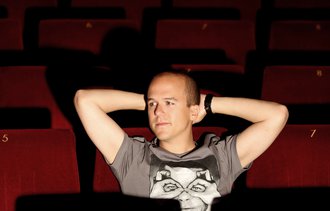 Nejc Gazvoda (1985) is the director, screenwriter, and novelist who received the Prešeren Award (the highest university recognition) for his diploma work in film and television directing, Fragma: An Ounce of Luck (2008). His feature debut A Trip (2011) has received awards at numerous international film festivals and was nominated for the Slovenian Academy Award. As a screenwriter, he participated in Personal Baggage (2009, J. Lapajne) and Class Enemy (2013, R. Biček). After the internationally acclaimed film Dual (2013), The Father Figure is his third feature film.
Perfo is one of the leading Slovenian independent film and television production companies, founded in 2005 by producers Aleš Pavlin and Andrej Štritof. It offers critically and commercially successful projects to domestic, European, and global audiences and builds professional creative relationships with growing talent and established filmmakers. To provide their projects with the widest possible audience while still maintaining an artistic vision, they work closely with European and international partners, sales agents, distributors, and A-List festivals. Perfo has created several feature films in international co-productions, mostly as an authorised producer and sometimes as a minor co-producer. All of their films have been screened at a number of international festivals; many of them have also been among the greatest box-office hits in theatres.
director
Nejc Gazvoda

production
Perfo
co-funding
Slovenian Film Centre