The Volta Cinema
by Martin Turk
Kino Volta, documentary
In preproduction
The central stage of the film is the city of Trieste – one of the commercial and cultural centers of the Austro-Hungarian Monarchy in the early 20th century. At that time, "new art" flourished: cinematography, which, in conjunction with the then-unknown writer James Joyce, enabled a group of aspiring Trieste citizens to become a part of the film history of Slovenia, Italy, Ireland, and Romania. An ambitious team of cinephiles opened theatres in the early 20th century – not only in their own city but also in Bucharest and Dublin. Obviously, they were not bothered by any customs barriers, tax restrictions, special state regulations, national or ideological prejudices… They share their love of the new art – and of course the earnings with it – and see the European space as an open venue where one can feel at home practically everywhere. Kino Volta is a film about nostalgia for a historical period long gone, for a vision of dreams, ambitions, and enthusiasm for a new means of communication that we nowadays take for granted. The screenplay is based on a novel by the prominent Slovenian writer Drago Jančar.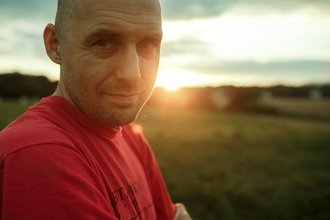 Martin Turk (1978, it). His short film Every Day Is Not The Same (2008) premiered in the Cannes' Quinzaine des Realisateurs and was then a part of numerous selections worldwide. Turk developed his debut feature film script Feed Me With Your Words (2012) in the Cannes Film Festival's programme The Cinéfondation Residence 2009. Its festival circuit includes São Paulo, Turin, Tallinn, Mumbai, Montpellier, New York, Los Angeles, San Jose, Oporto, Pula... His short film A Well Spent Afternoon (2016) premiered at FilmFest Dresden, which was followed by more than 35 international film festivals, including New York ICFF, Edinburgh IFF, Sarajevo IFF, Leeds, Montpellier, TIFF – Kids, and Oberhausen Int. Short Film Festival where it won EVO Promotional Award of the Children's Jury. His feature film A Good Day's Work (2018), produced by Turkish public television TRT, Obala Art Centar Sarajevo, and Bela Film Ljubljana through Sarajevo Film Festival pilot project Sarajevo City Of Film for Global Screen, was premiered at Busan IFF. His third feature film Don't Forget To Breathe (2019) premiered in a competitive section of the Rome Film Fest's Alice Nella Città, dedicated to films for the young audience. In 2020 the film won the Vesna Award for Best Feature Film and Best Cinematography at the Festival of Slovenian Film.
Fabula, an independent Slovenian production company, founded in 2000, produces and co-produces feature and documentary films for national and international markets. Our goal is to make films with good ideas, artistic potential, and unique value. The owner of the company Radovan Mišič studied film production at the FAMU in Prague.
director
Martin Turk

production
Fabula
co-production
Quasar Multimedia, Planet Korda Pictures
co-funding
Slovenian Film Centre, Friuli Venezia Giulia Film Commission - FVG